Eagle's Nest Resort
Situated on a secluded 10-acre property overlooking peaceful Anahim Lake, Eagle's Nest Resort surrounds you with comfort while you explore the beauty of the Chilcotin wilderness.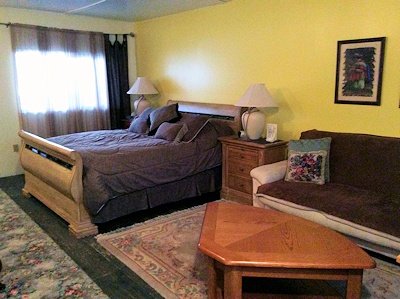 Choose one of our elegant rooms overlooking the lake, complete with comfortable queen bed, sitting area, satellite TV, and wireless Internet.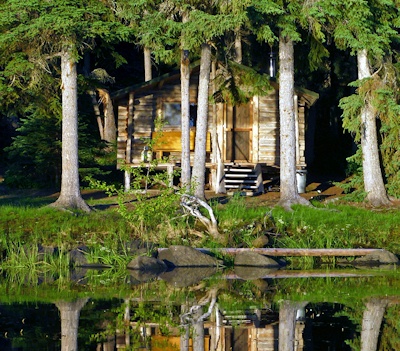 Or perhaps you would enjoy the experience of an authentic log cabin by the lakeside, somewhat rustic yet cozy and welcoming, where you can step out your door to watch loons floating by and rainbow trout jumping in the lake.
Try hiking the Rainbow Range Trail in Tweedsmuir Provincial Park, so diverse and impressive that a travel writer once called it "one of the best day hikes of my life". Or maybe walk along the edge of a volcanic canyon with basalt columns that plunge down sheer cliffs, along with a 300-ft waterfall tumbling to the canyon floor and a solitary hoodoo rising in the centre.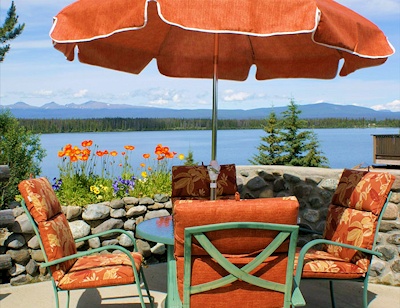 Afternoons are a perfect time to relax in our Guest Garden over a drink, where you can watch the flight of an eagle or pelican and gaze across the lake to the old volcanic peaks of the Ilgatchuz Mountains.
When evening comes, our lovely dining room overlooking the lake offers delicious meals like schnitzel, chicken cordon bleu, or wild sockeye salmon, and the perfect end to a satisfying day.
The Chilcotin has been called British Columbia's "last frontier" for its pristine wilderness and rugged people. It is the land that the explorer Alexander Mackenzie once crossed on his successful journey to the Pacific Ocean in 1793, and it has attracted people with an adventurous spirit ever since.
Today you can take a "flightseeing" tour by floatplane to see some of the amazing nearby sights. Fly through the ancient Rainbow Mountains with their vibrant red, orange, and yellow rockfalls, then on to see dramatic Hunlen Falls dropping over 1,000 feet from the Turner Lake escarpment, and finally weave through the peaks of the Pacific Coast Range to look down on the vast Monarch Icefields. It is a unique, not-to-be-missed experience.
Eagle's Nest Resort would be pleased to be your home while you enjoy this beautiful wilderness. Only 20 minutes from Tweedsmuir Provincial Park and close to where Highway 20 drops into the Bella Coola Valley, we are perfectly situated in the heart of Super-Natural British Columbia.
We look forward to serving you.
---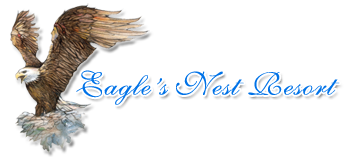 Eagle's Nest Resort
PO Box 3403
3008 Elsey Road
Anahim Lake, BC V0L 1C0
Phone: 250-742-3707
Toll-free: 1-800-742-9055
Fax: 250-742-3489
Email: info@eaglesnest-resort.com
Web: www.eaglesnest-resort.com

---